"Open our eyes to behold your gracious hand in all your works."
---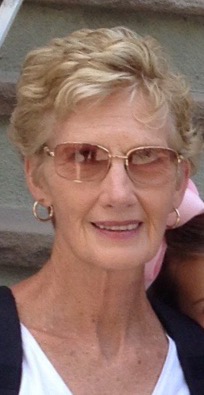 I was honored to be asked to participate in the Fall 2018 Stewardship Emphasis, "A Vision for Transformation and Service." This year's theme spoke to me because it inspired, rather than challenged, me to give for a higher purpose; to be generous in response to God's generosity in my life. I have been so blessed, and certainly, an important spiritual blessing is when I became a communicant of St. Andrew's. St. Andrew's has been generous in its warmth and welcome to me, and it is my privilege to pay it forward. Every time I enter the doors of St. A, I feel the abundant blessings of God in the sermon, in the beautiful music, and the church family.
But I am also grateful for the church in general in my life and its blessings. I guess I should mention that I've been around the block a time or two with church membership and church affiliations. In my early youth, I attended the Baptist church because my dad and his family were Baptists. I heard my grandmother many times tell my mom that the Baptist church was the only way to Heaven. Based on that premise, I certainly was eager to attend the Baptist church in our community. Even though the pastor's delivery scared me, I loved being with all the kids in Bible school and drinking Kool-Aid in the summers. My mother was Methodist, so occasionally, we would go across the street from the Baptist church and attend the Methodist Church. I attended the Methodist Bible school as well, but the refreshments weren't as good. But then there was a little Presbyterian church in the neighborhood that everyone felt sort of sorry for because of its low membership because no one could find it, so we would often attend that church on its one Sunday service in the month. I never joined any of these churches, but I received much more than I gave because I developed the beginnings of spiritually through the church environment.
When I was nine, we moved from this bucolic little village to where my father grew up in north Mississippi. Then, I was back in the Baptist church amidst all my Heaven-bound relatives. I even became a Sunbeam. But lo and behold, it turns out that one of my Baptist relatives (actually two who did not attend the church) did something unspeakable to the local church minister, allegedly to right a wrong, (could have served time, but didn't), so all my Baptist relatives left that church and scattered themselves among other Baptist churches. My family left as well, but we chose a small country Presbyterian church because it was ¾ of a mile from home. At the young age of 12, I became a Presbyterian and as a pre-teen became the church pianist; probably because they couldn't find anyone else that would serve this small congregation for free. I was mortified, but my mother beamed. I served as pianist there well into my college years. What a gift to me from this small one-room country church that I will always hold dear because I learned all those wonderful, old inspiring hymns.
OK, I'm still not Episcopalian yet. After I graduated from college, moved to Jackson, and married, I attended the Methodist church briefly and then began attending a Presbyterian church there with my daughter for several years. I think the gift here was that I knew I didn't want to remain Presbyterian. Then I was introduced to the Episcopal church and I knew this is where I needed to be for my own spiritual growth. My daughter and I both joined Chapel of the Cross in Madison where I remained for 21 years. I loved the Chapel and still do. But somehow, I joined a few friends and we attended other area Episcopal churches a couple of years ago. When I visited St. Andrew's, it lived into its "radical welcome" theme in a way that I had not experienced before and it is ever present in the clergy, vestry, and congregation. I feel spiritually centered at St. Andrew's, and it has come to be a sacred space for my spiritual being and growth. St. Andrew's has been a generous gift to me and I am inspired to give back. Won't you join me this year?
~Marilyn Beach
---
"Open our eyes to behold your gracious hand in all your works."
What does it mean to give?
---
Where do you see God's hand at work in your life?
---
How has St. Andrew's transformed your life?
---