---
Lenten Yoga Every Thursday at Noon
In the spirit of Lent and New Year resolutions, join Crystal Utley Secoy for a 40 minute yoga lunch break at noon on Thursdays in the Youth Room of St. Andrew's Cathedral. The goal is to clear our minds, turning them inward and upward, and to increase cardiovascular and endocrine health, core strength, and relaxation. Yoga meets you where you are personally and can be a tool for everyone at all levels and ages! (A $10 donation is suggested, with part of the proceeds going to St. Andrew's Cathedral.)
When she is not practicing law, Crystal has studied therapeutic yoga extensively with J.J. Gormley Etchells. Prior to the arrival of her boys, Crystal regularly taught classic hatha yoga, incorporating all 8 limbs of yoga, Ayurveda, and the balance of energy in the body. Crystal has practiced yoga for over fifteen years and truly fell in love with the philosophy and practice thanks to Moira Anderson's River Rock Yoga Studio in Ocean Springs MS. Crystal is a registered Yoga Alliance instructor having completed the year-long Dragonfly Yoga certification program with Laura Tyree and Kripalu-trained Moira Anderson in 2009. In addition, Crystal is finalizing a two year 500 level program with J.J. who is a student of Desikachar and member of Krishnamacharya Yoga Mandiram in India. 
Dinner at 5:00 p.m. | Formation from 6 - 7:00 p.m.
---
---
BRICK BY BRICK (Children's Wednesday Night Formation)
An imaginative way to Build Faith and Explore the Bible
An imaginative way to Build Faith and Explore the Bible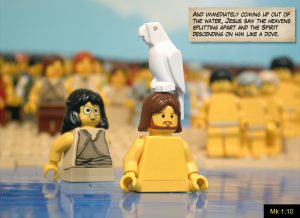 Calling all Master Builders in K - 5th grades! Get ready for a Wednesday night Bible Study jam packed with fellowship, fun and LEGO'S! Join Rachel Misenar and friends at 6 pm in the EYC space for a one of a kind experience! Mark your calendars! Call or email Rachel at 601-573-3689 or
rachel.misenar@gmail.com to sign up or if you have questions!
February 21 - The Good Samaritan
February 28 - The Loving Father
March 7 - The Last Supper
March 21 - The Passion
And if that isn't awesome enough, join Jessica Nelson from 5-5:30 pm on those Wednesday Nights for Children's Choir practice! Children will perform at the 8:45 am service on March 11th! They will also take part in a special procession on Palm Sunday!
Don't miss it! Sign up for Children's Choir here! 
---
---
---
Youth Wednesday Night Formation
The youth will meet on Wednesday nights in the Chapel for a Lenten Study Group at 6:00 p.m.
---
---
---
Adult Wednesday Night Formation
There will be a Lenten book study meeting on Wednesday Nights at the Cathedral for the parents who's children are attending Brick By Brick and anyone who would like to join. Sign up will be available in the Rotunda starting Sunday, February 11th and online at
here.
We offered Stations of the Cross during Lent on Wednesday evenings at 5:15 p.m. in the Cathedral.
---
---
---
Parish Hall | Lenten Dean's Forum: A Series on Mental Health
February 18 – Becca Stevens, Founder and President of Thistle Farms
February 25 – "Talking with Children about Depression" led by Dr. Jay Fontaine
March 4 – "Mindful Caregiving" led by Kathy Woodliff
March 11 – Recovery Sunday
March 18 – "Adults and Depression" led by Dr. David Richardson
I don't know about you, but I grew up around many Christians who believed that Christian joy was only about happiness. There was never room for sorrow. In fact, to remain in sorrow was, for them, to forget all your blessings. You are "too blessed to be stressed" they would say, or "God will not give you more than you can handle," or "everything will be better in the morning." The Christian journey is not always rainbows and unicorns, because, often enough, life gives us little deaths – loss of jobs, loss of hopes, loss of dreams, loss of health, or loss of loved ones.
Because these times often lead to questioning, doubt, stress, isolation, little happiness, and lots of stress, some people get confused and think those experiences are sinful, instead of a normal part of the Christian journey, in which God is present with us in the wilderness.
Lent offers the opportunity for a spiritual "check-in," an intentional wilderness experience. Lent is a time of reflecting on our life with God, to examine our sin - where we have become separated from God and from each other.
Regrettably though, our language around sin these days sounds more like our language around illness. For instance, talking about "dark days", "feeling isolated from society", or being "disturbed" become misnomers for sin. When illness becomes confused with sin, mental illness, especially, can be seen as the result of sin. Nothing could be further from the truth!
If we, as the church, are to be a place of transformation, then we must be intentional about distinguishing between the trials and tribulations of illness, and a self-examination of our sin - separation from God and each other.
In order to be intentional, we must examine mental health problems, and learn how to recognize the wilderness of illness as something different than separation from God.
Dr. John Swinton urges churches to realize that "mental health problems are unique experiences that occur in the lives of irreplaceable individuals who have their own unique stories, histories, dreams, and desires; people who are deeply loved by God, and whom God desires God's church to love without boundaries. People's stories may be changed by their encounter with mental health problems, but they are not defined by them."
During Lent, please join us as we explore mental health problems, and begin to intentionally separate the wilderness of illness, and the wilderness of self-examination.
---
St. Francis | Bible study: Five Martyrs of the English Reformation
Beginning on February 25, 2018 Robert Wise will be offering a Bible study in St. Francis Hall on  Five Martyrs of the English Reformation: Thomas Bilney, William Tyndale, Hugh Latimer, Nicholas Ridley and Thomas Cranmer. Please join him during the formation hour beginning at 10:00a.m. 
March 25, 2018
Palm Sunday Services
7:30 a.m. - 8:45 a.m. - 11:00 a.m.
March 26, 2018
5:15 p.m. | Stations of the Cross in the Cathedral.
March 27, 2018
5:15 p.m. | Stations of the Cross in the Cathedral.
March 28, 2018
12:05 p.m. | Concert in the Cathedral.
5:15 p.m. | Stations of the Cross in the Cathedral.
7:30 p.m. | Tennebrae
March 29, 2018
5:00 - 6:30 p.m. | Agape Feast
6:30 p.m. | Maundy Thursday Service
---
March 30, 2018
10: 30 a.m. - 11:30 a.m. | Children's Stations of the Cross
Good Friday Service | 12:00 p.m. and 5:30 p.m.
March 31, 2018
9:00 a.m. - 10:00 a.m. | Holy Saturday Service
10:30 a.m. - 11:30 a.m. | Easter Egg Hunt at the Lower School
7:30 p.m. | Easter Vigil
April 1, 2018
Easter Services
7:30 a.m. | Spoken Eucharist in Chapel, Rite I
8:45 a.m. | Choral Eucharist in Nave w/Incense, Rite II
11:00 a.m. | Choral Eucharist in Nave w/Incense, Rite II