Taste of Mississippi
04-01-2019 @ 7:00 pm

-

10:00 pm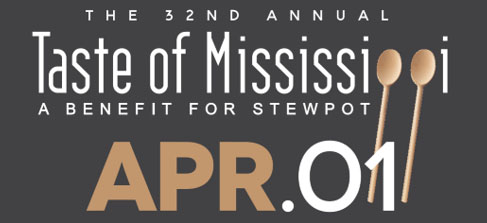 The Taste of Mississippi benefitting the Stewpot Community Services will be held Monday, April 1 at the Historic Ice House. The Holy Smokers and Smokettes will try to take the trophy again for the Best Entrée. Tickets will be on sale in between services in the Rotunda or from Bobby Lacoste.
About Taste of Mississippi
Taste of Mississippi offers culinary delights from fabulous area restaurants, beverages from local distributors, a silent auction, live music, and a competition among our participating restaurants to put on the best presentation and offer their best food samplings.  
What's New in 2019 for Taste of Mississippi? Our Venue! "All of the money we raise through Blue Cross & Blue Shield of Mississippi ~ Taste of Mississippi is a vital part of our ability to perform our various ministries throughout the year." "2018 was another great year for Taste of Mississippi! "And this year, we have made more fabulous changes. We have diligently (since our move from Highland Village) been seeking out the best party venue in Jackson for our supporters. To do that, we've partied elegantly in spaces that gives the same quaintness and quality we had at Highland Village. And yes, we think we have a venue will accommodate our event needs. We've consciously picked the space with our old and new friends and the restaurants in mind. We promise you will be amazed! The Ice House in Jackson, gives our attendees the room to move around, allows for the event to comfortably host more fine restaurants and be in one building. Join us for an extraordinary night!
All proceeds from Taste of Mississippi benefit Stewpot Community Services, whose mission is to provide for the needs of the poor, elderly, and disabled in Jackson's metro area. In 2018, this event raised more than $100,000 for Stewpot's ministries.