Feast of Lights – Epiphany Celebration
January 5 @ 5:00 pm

-

6:00 pm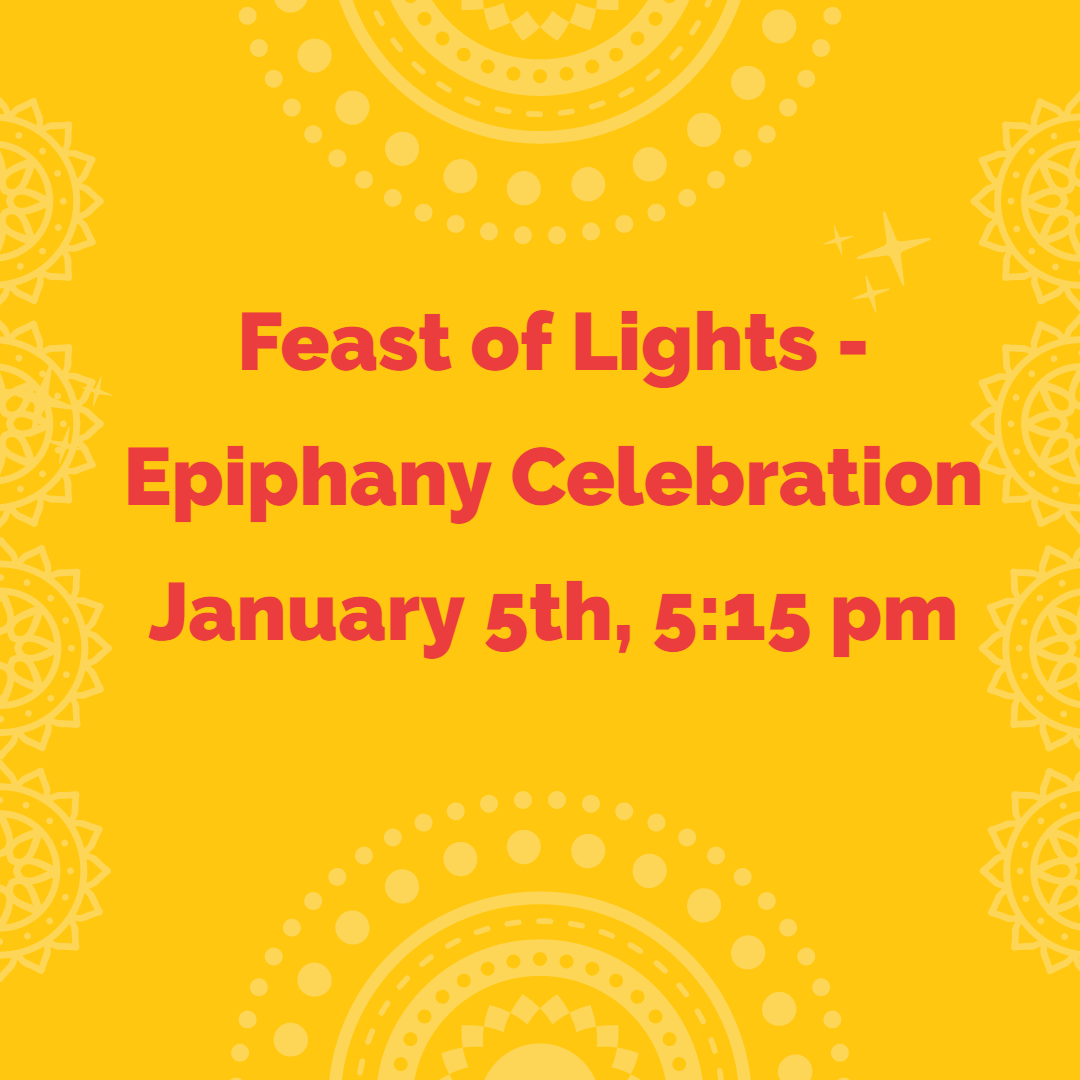 Wonder, behold, proclaim – these are the words of The Epiphany celebrated January 6th.  The Magi, we learn in Matthew, all saw a star of great brightness and wondered what it might mean.  They followed it to Bethlehem to behold the child and left as the shepherds and angels before them proclaiming the good news of the birth of the Messiah.  For twelve days of Christmas, we behold the Christ Child and ponder with Mary what this might mean.  The Epiphany is our turning point from a focus on Jesus the baby to focus on Christ in the world. For six weeks after the Epiphany that is our focus with symbols of light and emphasis on the proclamation of the Gospel.
God doesn't work alone.  It's a mystery but true.  From the first moment of angel proclamation, we learn that God doesn't even come to us without enlisting our help.  God is born of a woman, protected by a man, brought gifts from outsiders, and carried by a donkey.  From every part of creation, from the far east to west, human to animal, God pulls us together in this incarnation, this God-with-us, a moment of wonder.
We are pulled into this wondrous mystery We are not only to witness but also to participate, in whatever way we can, with whatever we have to offer.  That is what the Magi teaches us.  Embrace mystery, follow your heart, pay attention when God speaks to you.  You have something to offer.  Come and worship, and then go home another way, so that you can continue to see God in new ways, share God in new ways.  Taking one bright candle from Christmas back into the world as a witness to God's love.
Our Epiphany celebration of the Feast of Lights is not just for children.  It is for every heart that can play, and worship, and praise, and bring gifts, and see the light, and share in the joy that is God with us.  Come experience Epiphany!  Sunday evening, January 5th the liturgy begins at 5:15 in the Church.  There will be a pageant and a celebration of the Holy Eucharist. Bring your own bells, flashlights or glow sticks.  There will be some to share as well.
In the words of Howard Thurman:
When the song of the angels is stilled, When the star in the sky is gone, When the kings and princes are home, When the shepherds are back with their flocks
The Work of Christmas begins: To find the lost, to heal the broken, to rebuild the nations, to bring peace among the people, to make music in the heart.
The Reverend Anne M. Maxwell